--- SOLD OUT ---
The Vault III
Limited Edition Trunk Set
An Exclusive Collection Inspired by the Continental's Deadliest Assassin
This limited and carefully curated collection of weaponry is produced by Big Daddy Unlimited (BDU) in conjunction with Taran Tactical Innovations (TTI) and is intended for the John Wick super-fan.
The Vault III is a fantastic conversation piece, but with the added benefit that every gun is ready to hit the range.
Each of these guns can be used right out of the case in steel challenges or 3 gun matches.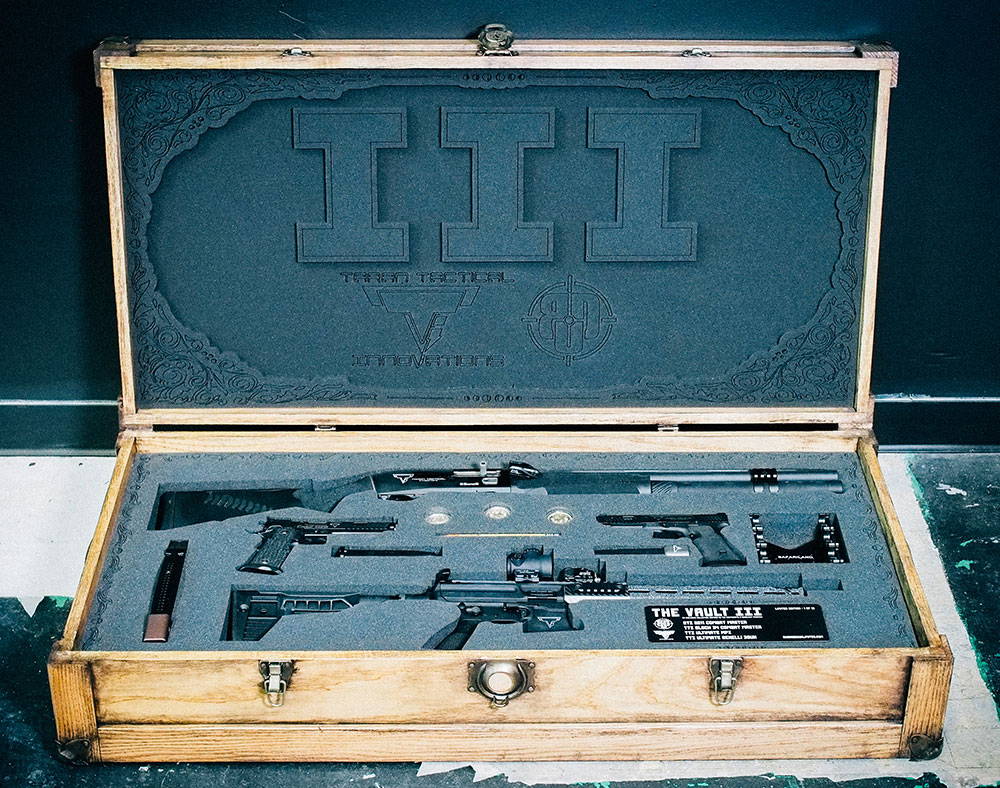 Inside you will find four fully functional firearms patterned after the guns that were used in John Wick: Chapter 3 – Parabellum.
• STI 2011 Combat Master
• TTI Glock 34 Combat Master
• TTI Ultimate MPX
• TTI Ultimate Benelli 3Gun
TTI Glock 34 Combat Master

TTI Ultimate Benelli 3Gun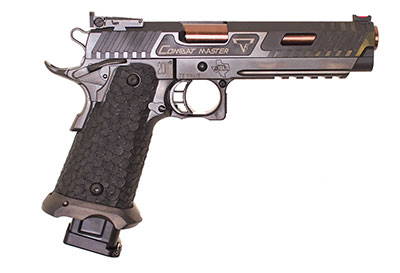 STI Combat Master - 9mm Pistol
5.4 Inch Match Grade Bull Barrel
FDE/Bronze BLC coated Barrel
Combat Master Slide Cuts
Extreme Engineering Fire Control Group
Fiber optic front sight and adjustable rear sight
New Extended Slide Release
New extended Mag release
1.75-2.5 LBS trigger pull
Stainless Steel Guide Rod
Grip job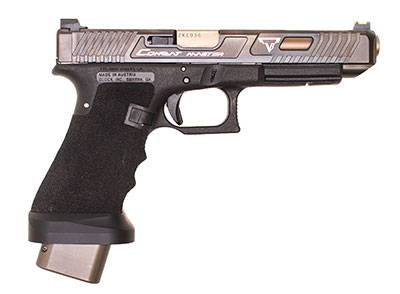 Glock 34 Combat Master - 9mm Pistol
Tactical Matte Black Slide Finish

Ionbonded Bronze Barrel

Competition Trigger Job

Full Wrap Stipple - Right Handed

Scallop Cut Magazine Release

Single Undercut

TTI Competition Magwell for Gen 3/4 Glock

TTI Fiberoptic Sights Green

Flat Black Base Pads

Laser Engraved TTI Logo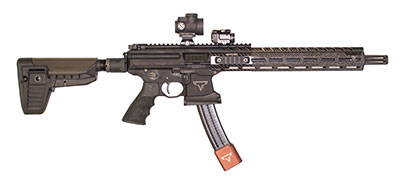 TTI Ultimate MPX - 9mm PCC
Carbon Fiber Handguard w/Grandmaster Silicon Carbide Treatment

Trijicon MRO

Geissele Super Precision Lower 1/3 Mount

Streamlight TLR-8

TTI Magwell

Hogue Grip
TTI +10 Base Pad

Custom Bolt Carrier
TTI Custom Lifter/Shell Carrier
Forearm Stippling
Straight Stock Stippling
TTI Ultimate Safety
TTI Oversized Bolt Release
TTI Springs Package
TTI Ultimate Charging Handle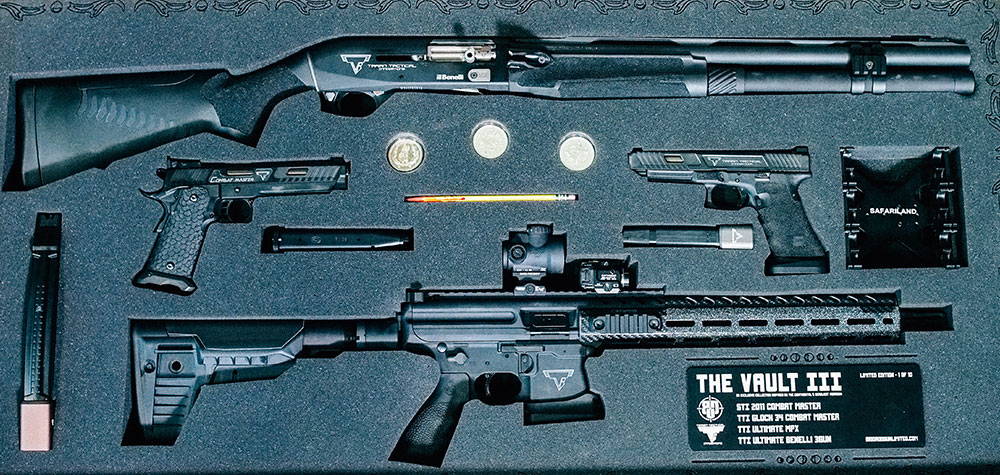 The vault also includes a trio of 24-karat-gold-plated "Continental Coins" as well as a "used" Number 2 pencil.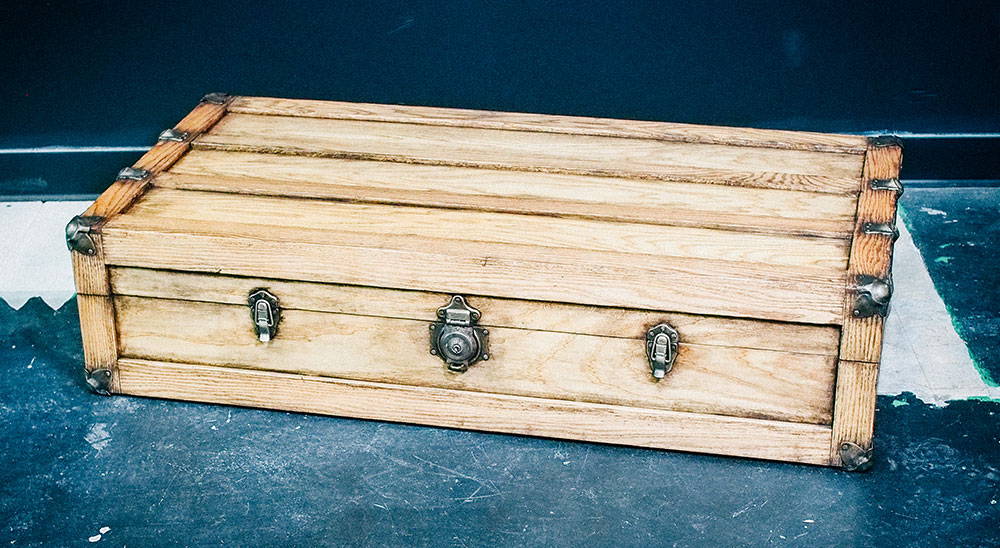 The Vault III collection is presented in a handcrafted trunk made from solid red oak. It features brass hardware and includes custom foam inserts made by Carolina Custom foam.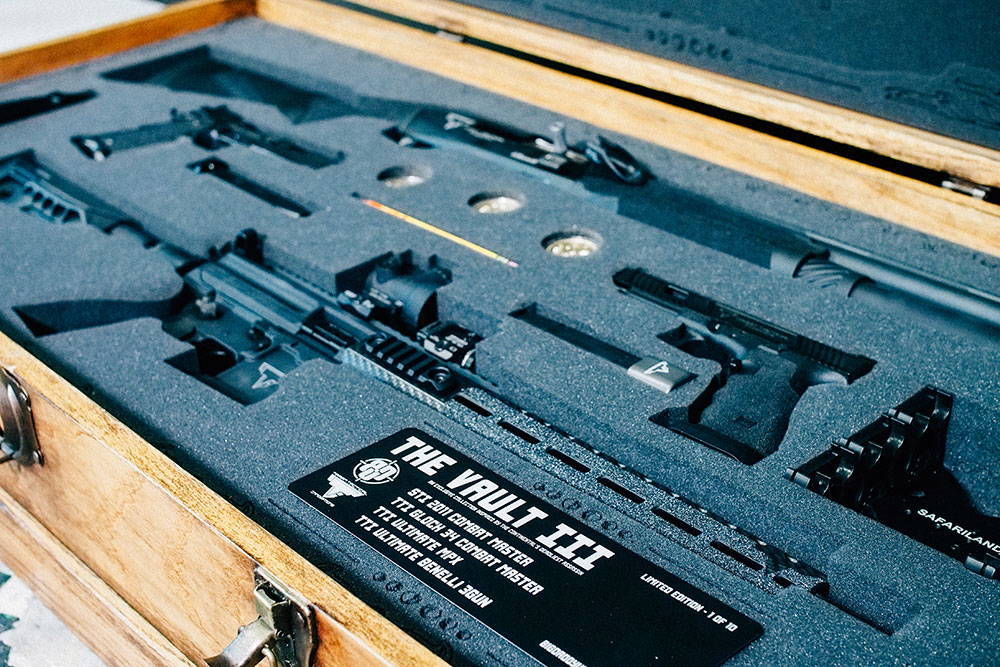 With Iconic guns and innovative gun-fu tactics, each of the John Wick movies have become instant "gun guy" classics. Now with the Vault III you can experience John Wick like no one else.
Only 10 Vault III trunk sets will be produced. Each Vault III will include a numbered Limited Edition plaque.
If you're a die-hard John Wick fan...and you've got the coin
you can be one of only a select few to own the Vault III Trunk set.
No watch party will be complete without this epic set...
Order The Vault III now at Big Daddy Unlimited for $17,999.99
---